Membership Application
Join the Engineers Club of Dayton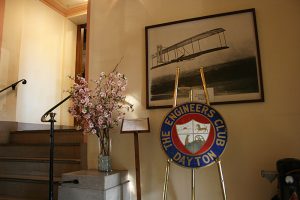 The Engineers' Club of Dayton (ECD) has been an integral part of the city's landscape for over 100 years and membership has been held by an impressive list.  Founders Colonel Edward A. Deeds and Charles F. Kettering realized that Dayton was an important hub for industry and technology as far back as 1914. Our Club was created to foster innovation through the sharing of ideas, guest speakers and more — a tradition that is carried through even today!
We always are looking to add new members to our organization, not only area engineers, but those with skills and technological backgrounds that make sense, including:
| | | | |
| --- | --- | --- | --- |
| Business Owners | Engineers | Healthcare Professionals |  Entrepreneurs |
| Financial Planners | CEO's |  Attorneys |  Accountants |
| Patent Holders | Military Officers | Active Military | University Faculty |
| Realtors | Property Managers | Engineering Students | WPAFB Employees |
| Young Professionals | | | |
If you are interested in membership to our esteemed Club, please take the time to fill out the application below and an associate will contact you shortly afterwards. Thank you again for your interest in the Engineers Club of Dayton, and please know that your personal information will remain confidential and secure throughout the entire process.
For more information about the Engineers Club of Dayton, please contact us by e-mail or phone, using the links below:
Send us an e-mail | Call (937) 228-2148
---
Membership Application