Barn Gang, Sept. 8
September 8, 2020 @ 11:15 am

-

1:00 pm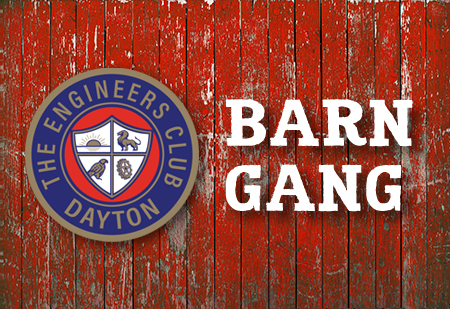 Barn Gang, Tuesdays
The Engineers Club of Dayton
Nordhoff and Hall, an Unlikely Partnership
Featuring Neil Webster
Two men born the same year, but half a world apart spend WWI in the same unit in France, yet they never met during the war. What brings them together is a request to write the history of their unit in the war.
After the war they write this history, then move to Tahiti to write adventure novels. One of their most famous books is about the Mutiny on the Bounty which occurred in 1789. The Bounty story is told in three parts: The Mutiny, the Mutineers, and the Loyalists and their trip with Captain Bligh to the Dutch East Indies. This 4,000-mile voyage in a 23' open boat is considered one of the greatest feats of seamanship in history.
While there are few 'original sources' for details regarding the mutiny, Nordhoff & Hall managed to write a reasonably accurate account. The fate of the mutineers was discussed at length as well as the loyalists that sailed with Bligh and the loyalists that were forced to stay with the ship (and on Tahiti) until captured and tried.
The story has been told in five movies, and while one has been lost over time, the others were reviewed. Nordhoff left Tahiti just before WWII and died in the states. Hall stayed in Tahiti and died in the early 1950's.
Lunch will be served from 11:15 a.m. to noon.
The featured program will run from noon until 1:00 p.m.
Hope to see you there!
Send us an e-mail…
Call (937) 228-2148 for more information...