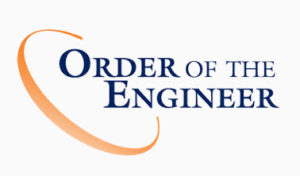 SAVE THE DATE!
CALL FOR 2020 "ORDER OF THE ENGINEER" INDUCTEES
FOR NEW INDUCTEES, GUESTS, CURRENT INDUCTEES AND CLUB MEMBERS
The Engineers Club of Dayton 2019 Order of the Engineer (OOE) Induction will occur on Friday, March 20, 2020 at 7:30 p.m. at the Club in collaboration with the Air Force Institute of Technology, the Air Force Research Laboratory and other regional industrial, government and academic engineering, science and technology organizations.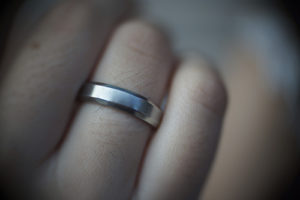 Eligibility: Any engineer is eligible for induction if he or she has graduated from an Engineering Accreditation Commission (EAC) or Accreditation Board for Engineering and Technology (ABET) program or holds a license as a Professional Engineer in the United States. Students enrolled in EAC of ABET degree programs are eligible if they are within one academic year of graduation. Other candidates, including those with equivalent degrees in science and technology, may be considered eligible because of equivalent credentials, subject to the approval of the OOE local Link Board of Governors.
---
Application:
An informational tri-fold and candidate inductee Application Form can be downloaded from HERE.
Information on the National OOE organization, of which the Club is a chartered "Link", can be viewed HERE. This year celebrates the 50th Anniversary of the Order in the US in 1970.
---
Send a completed electronic or paper Application Form to:
The Engineers Club of Dayton
110 E. Monument Avenue
Dayton, Ohio 45402
Or by e-mail to any of the members of the Board of Governors listed below.
Upon approval for induction you will be contacted to arrange for ring-sizing at the Club.
Dinner: Before the ceremony, an optional dinner at menu prices will be available for inductees and guests at 5:30 – 7:00 p.m. For dinner reservations (required) call 937- 228-2148. In addition to new inductees, current members of the Order, Club members, guests and friends are invited to attend the induction and dinner.
Cost: Each inductee will be $25 to cover the ring and associated induction ceremony expenses. Make checks out to "Engineers Club of Dayton". There are no other fees, dues or costs after induction.
Timing: Applications must be received no later than March 10, 2019 to allow time for application review/approval and ring sizing/ordering.
We hope you will take advantage of this opportunity to become a proud member and ring bearer with other members of the Order-of-the-Engineer and share this unique networking experience with other colleagues at the Club and in the region.
If you have any questions about eligibility or need further information, contact any of the OOTE Board of Governors shown below.
---
THE ENGINEERS CLUB OF DAYTON OOTE BOARD OF GOVERNORS
Mike Browne: 937-235-1366, mikebrowne77@earthlink.net
Bob Cochoy: 937-427-2555, cochoys@sbcglobal.net
Ben Graham: 937-689-3380, bensgraham@worksimp.com
Walt Hoy: 937-287-9945, walt@foxlite.com
Gavin Jenney: 937-236-8112 gavin.jenney.phd@gmail.com
Jim Mattice: 937-272-4532, jjmattice@sbcglobal.net
Bob Stone: 937-266-8312, robert.stone26@yahoo.com
Chuck Stuart: 937-434-4796, calstuart@sbcglobal.net